Institut Esthederm: prices and reviews
Institut Esthederm is a cosmetic brand with more than 35 years of history that has always been characterized by its approach to cosmetics from cellular biotechnology , investing a large part of their capital in research (and very little in advertising, which says a lot about how little they need it).
Its founder (who was also founder of the well-known cosmetics brand available in pharmacies Bioderma and also of État Pur), Jean-Nöel Thorel, is a biologist and pharmacist, and has dedicated most of his life to researching human cells. skin, and has patented both sun products and other facial and body treatments that have proven incredibly effective. It is not for nothing that his slogan speaks of the fact that the skin has magic.
Known for its sun products
Considering their great contribution to cosmetics, it is surprising that many professionals from beauty centers who we often meet for cosmetic refresher courses admit that they still only use the solar range of Institut Esthederm products in their salons. .
It is true that solar products are the ones that catapulted this French brand in the 70s. They were groundbreaking because they promoted treatments that, rather than creating a layer so that the sun did not penetrate the skin as other products did, helped the skin to adapt naturally to the sun mitigating its harmful effects. In this way, all women could enjoy it regardless of their skin type, preventing aging, intolerance and spots.
However, this brand has gone much further, inspired by this same philosophy, and has developed solutions to accompany women throughout their lives, helping your skin cells to adapt at all times to the challenges it must face , including the sun, external aggressions (cold, pollution, etc.) and aging, and neutralize its negative effects in a natural and continuous way. Their products are generally light in texture, non-greasy, easy to apply without the need to massage excessively.
The key to the success of Institut Esthederm
It can therefore be said that Institut Esthederm considers the skin as a ecosystem that exists and lives in symbiosis with the environment , that is, that evolves in accordance with the whole body and with its environment. His success lies in his conception of cosmetics from biotechnology to help skin cells to assimilate the elements of water and light that are most beneficial to them and to adapt to the environment, to recover all their power regardless of lifestyle. and of age.
This seal of quality, together with affordable prices, has generated favorable majority opinions on clients around the world. We see it in our center on a daily basis: clients who start treatment with Esthederm are faithful for life .
With the desire to preserve this hallmark of quality, this brand cannot be found in ordinary perfumeries, but in beauty salons such as Beauty Nail Concept and, selectively, in the cosmetic floors and sections of some department stores, although it is becoming more and more widespread. its sale on the internet.
User reviews speak for themselves
The results of the treatments with Institut Esthederm are obvious from the first day, and after a few months they become amazing. Many of our center's clients look at images of themselves from long ago and marvel at having achieved such improvements in their skin without surgery, and are absolutely unconditional of their treatment.
On the internet it is difficult to find negative opinions and bad reviews about Esthederm. In fact, if we do some research (so you can see that it's not just us or the clients of our center) you can find a lot of positive opinions about Esthederm.
On blogs like In Breakout Savior , for example, we even found images of the effects of Institut Esthederm products (in this specific case, the intensive treatment with vitamin C) in just one week. The before and after pictures are truly amazing . So are those of blog Pure Beauté , showing the results of a complete program with Esthederm (make-up remover, peeling, night cream and day cream). In this other You have opinions about various Institut Esthederm products.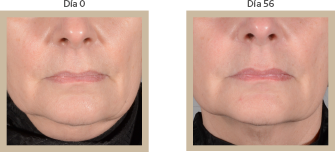 Other opinions can be found on Youtube (in English), as is from the English model Ruth Crilly, who talks about the intensive treatment with hyaluronic acid among other quality products from other brands, ensuring that her face feels taut with the product.
Affordable prices between 15 and 120 euros
The prices of Institut Esthederm products depend on the type of treatment our skin needs, but they are in line with other well-known brand products Available in perfumeries. For example, the Cyclo System rejuvenating treatment usually costs about 120 euros, the Derm Repair restructuring serum usually costs about 70 euros, a Lift & Repair eye cream is usually found for about 55 euros, the Pure System purifying treatment usually costs about 30 euros and Cellular Water in spray costs about 16 euros, depending on the seller and the available offers.
One of the most requested products among the facial treatments of this brand is the Esthederm EVE Serum Source , which It costs about 80 euros . It is a cosmetic that in the opinions that can be found on the internet, is "a bottled miracle" . It spreads a lot, so that it can last several months, obtaining visible results from the first day.
Diagnosis and treatment for each skin type
However, choosing a good brand is not enough. How many times has it happened to us that we go to a perfumery and we see ourselves advised by a saleswoman who advises you on hair dye as well as on a facial treatment? In the best of cases, we will be assisted by a specialized promoter who has completed a 20-hour training course. Without an in-depth diagnosis of our skin at each specific moment -and not only the classic classification "dry skin", "combination skin" or "oily skin" – we will probably take a product that costs hundreds of euros that does not solve our specific needs.
In fact, even on the internet, we can see negative opinions from clients who have bought Esthederm products or any other professional brand who complain about not having noticed results or adverse effects for their skin, having bought the product on their own, without advice or looking at it. only opinions and experiences on the internet from people who have a different skin type than yours and who, obviously, have not had a diagnosis of your skin.
Esthederm does not categorically and rigidly classify skin into dry or oily skin, nor does it divide sun protection factors conventionally: The classification of its products is oriented to the needs of the skin at each moment , specifying whether they are indicated for skin with special sensitivity to the sun, dehydrated, with acne, with blemishes, etc.
Trusting professionals is not expensive
You must always keep in mind that buying without the advice of a professional is Russian roulette : there is always someone who succeeds, but there will also be someone who is unlucky. It happens with everything: there are also many people who buy expensive professional hair dyes on their own and they look great, and others who burn their hair with the same product because the product was not the right one. You have to think that when we have that bad luck we end up spending a small fortune on putting patches. On the other hand, in a trusted hairdresser, they will always find the most suitable treatments for your hair type.
That is why there is no better way to make the purchase of Institut Esthederm products profitable than by going to buy them at an accredited beauty center. There, a professional with extensive training in the brand and in cosmetic treatments in general will give us a skin diagnosis and it will teach us how and with what we should treat each skin need. It is not the same to solve problems of acne, dehydration, wrinkles and blemishes, spots or flaccidity, nor do they require the same products depending on whether they have to be treated, protected, cleaned, toned, etc.
In addition to advice, periodic cabin treatments with Esthederm carried out by professionals contribute even more to treating our skin's needs. It is a good idea to carry out a periodic treatment together with maintenance at home with products that deepen the treatment carried out. In addition, our beautician will keep track of our evolution and will be able to treat our skin with what it needs at all times. Perhaps when we have solved an acne problem we should rehydrate, or when we return from vacation we need an anti-spot treatment.
In addition, Institut Esthederm does not only have facials. Its body range is governed by the same philosophy, that is, by helping the skin to adapt to the sun, its environment and its aging, achieving effects that do not go unnoticed by anyone.

If we take the sum of the treatments in the cabin from time to time and the products applied on our own at home, in the end it will not be much more expensive than applying any other brand that will not obtain the same results as Institut Esthederm.