Biologique Recherche: the perfect care for your skin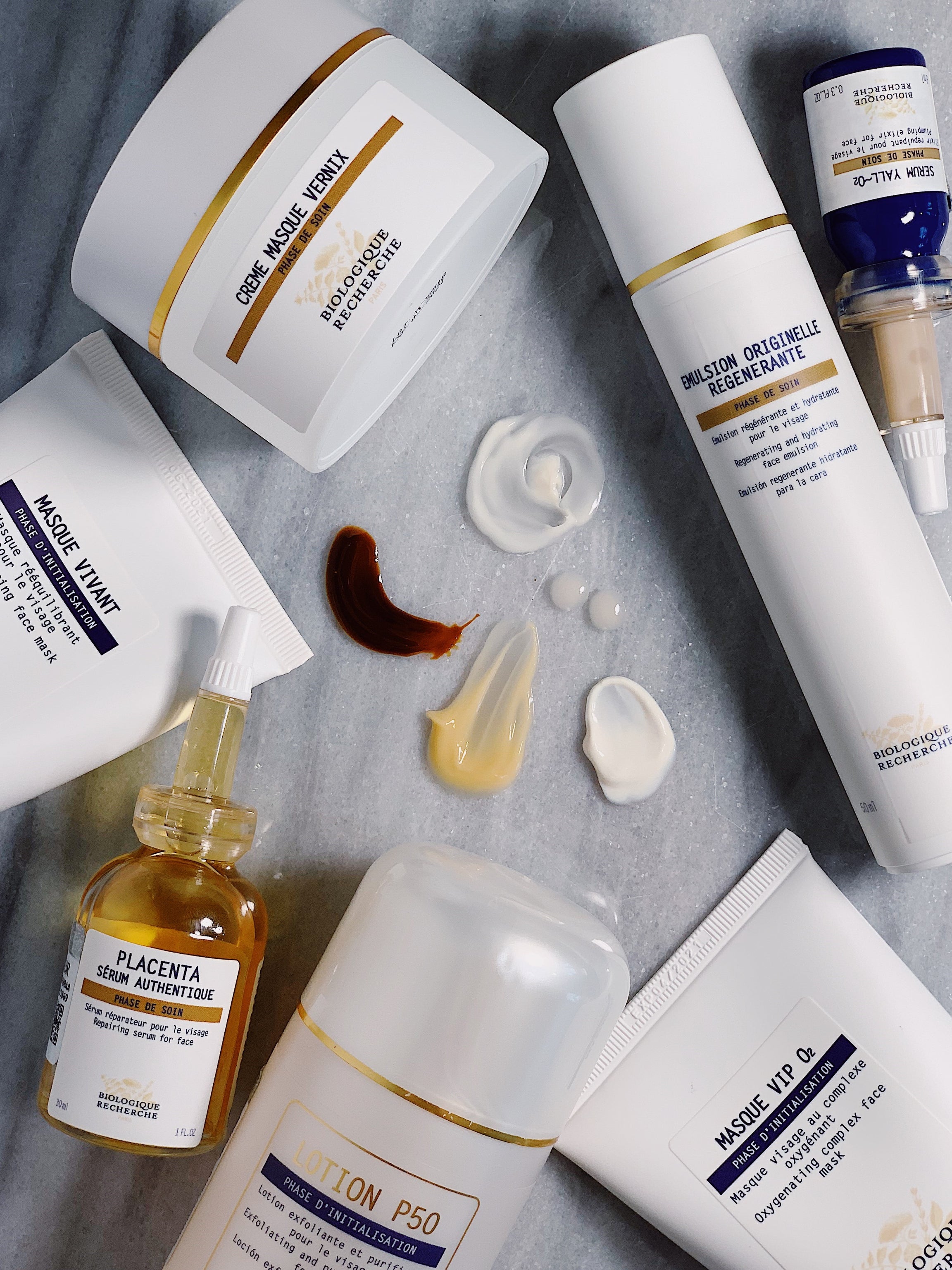 Biologique Recherche is a brand of facial, body and hair products 100% natural and handmade that adapt to the needs and skins of each person with immediate and lasting results with more than 50 years of history. If many people had not heard of it, it is because its approach to cosmetics is not that of brands aimed at a mass market, which invest huge sums in advertising. On the contrary, it is based on a philosophy that cosmetics must respond to different needs in each person and must be prescribed by a specialist. Not surprisingly, its creators, three French brothers, were a biologist (Yvan Allouche), a physiotherapist (Jossette Allouche) and a doctor (Philippe Allouche), who perfectly knew the ins and outs of skin care.
This philosophy allows Biologique Recherche to invest in research what other brands invest in visibility, achieving revered effects in the sector, and that are the clients (among them, celebrities who have surrendered at their feet) and medical aesthetic centers, who owe their billing to the results they offer, those who talk about it. In this post we will talk about the products highlights of the brand and its Benefits for the health of our skin.
Biologique Recherche products
The effects of Biologique Recherche have fallen in love with women from all over the world who are looking for natural products for the specific needs of their skin and who have found in them a perfect combination of medicine and aesthetics, hand in hand with their aesthetic medicine technicians. Among them, many celebrities like Bella Hadid and Alessandra Ambrosio , the Victoria's Secret angels who share their beauty secrets for the long-awaited annual show, rave about products like the P50 toning lotion, suitable for sensitive, fine and reactive skin. Also the socialite Kim Kardashian , who has an audience loyal to her beauty advice, tells on her Instagram that she uses the Vip 02 mask and the Vivant mask to get hydrated and perfect skin, and the former Spice Girl and British designer Victoria Beckam confesses that one of its secrets to combat body dehydration is the Emulsion Originelle Régénérante Corps cream. Likewise, luxury hotels around the world offer treatments of this brand to their most select clientele.
One of the main claims of this brand is that all its products are made with natural ingredients (above 20%) such as vegetable, biomarine and biological extracts , so neither dyes, perfumes or parabens (cosmetic preservatives) that can damage the skin are used in its manufacturing process. This makes them ideal for people who suffer from allergies or have sensitive or easily irritated skin. In addition, this manufacturing process is in cold in most products, so that the original structures of the active ingredients are preserved.
face products
Facial treatments are ideal for balancing, moisturizing and reviving the epidermis and improving the quality of our skin and providing a more radiant appearance. Below we list the most outstanding facial products of the brand:
Milks. These products are highly recommended for dry, dehydrated and aging skin as they provide hydration, renewal and elasticity, gradually recovering dead cells and achieving a radiant appearance. At the same time they remove impurities and traces of makeup. They differ from other cleansers because they have a fine, milky texture, don't strip the skin's natural oils, and don't leave skin feeling tight or dry after washing. Those from Biologique Recherche contain natural ingredients, such as sweet almonds or wheat germ. They are applied to the face, neck and décolleté both day and night with our facial hygiene routine with a gentle massage until completely absorbed. Afterwards, you should never leave them applied (they are not cream), but rather they should be rinsed and removed with a damp cloth properly. Afterwards, we can apply a mask, moisturizing cream, etc.
Masks. There are several Biologique Recherche masks that adapt to the needs of each skin. The two most commonly used are: Vip 02 Mask, ideal for tired, stressed and sensitive skin, which provides hydration, illumination and nutrition, and is also anti-pollution, and Vivant Mask which purifies, illuminates, tones and evens out the skin.
To ensure good use and optimize the result of the Vip 02 mask , it is advisable to store it in the refrigerator, and thus it will also provide a greater sensation of freshness at the time of its application.
Lotions.

 

They are ideal for all skin types, especially combination or oily skin (prone to acne or blemishes), fine or sensitive skin, or pigmented or dull skin, since they act as exfoliants that deeply regenerate the skin while hydrating it. . At Biologique Recherche the lotions have assets such as myrtle, myrrh, onion or plankton extract. A specialist will explain when to apply it, since its suitability depends on the skin type: very dry skin may need a moisturizer after a non-abrasive scrub and not a lotion.
sera . After applying the facial milk or lotion, it is advisable to apply a few drops of serum on the décolleté, face and neck before applying the most suitable cream for the treatment. Biologique Recherche offers a wide range of serums depending on skin type, from placenta serums or algae extract serums to serums with an extensive list of ingredients such as Yall O2, considered an anti-aging elixir.
facial creams

 

They can be applied day and night, and they are the last step in any facial routine, and they usually have slow-absorbing components, since they should not be rinsed off like the rest of the products used in the previous steps. These components, as in the rest of the products, must be in accordance with what a specialist determines that our skin needs. For example, if our skin has sagging problems, we may need a cream with marine collagen such as Crème Elastine Marine, if it tends to acne or has marks, a cream such as Crème Verte Espoir may be ideal, or if we want to reduce the effects of stress and premature aging, perhaps what is recommended is Crème Hydravit's, with revitalizing and rebalancing agents such as thermal water extract. Biologique Recherche has almost 30 different facial creams to individually treat each problem, including eye contours and lip balms. All their creams can be used both day and night, which means that they have sun protection and numerous active ingredients, which act more deeply at night while we rest.
body products
The main function of body treatments is to tone and recover a perfect silhouette and achieve smooth skin, slim legs and firm buttocks. Below we classify the most outstanding body products of the brand:
Body oils . They are ideal products for those who suffer from back problems, as they relieve contractures and improve blood circulation, acting as a relaxing and calming property. Its mode of use consists of performing a gentle massage all over the body during the day or at night, providing a sensation of well-being. Some oils also work to eliminate cellulite, also called orange peel, and achieve firmer and more toned skin. One of Biologique Recherche's best sellers is Huile Jambes Lourdes for tired legs with essential oils (lavender, basil, clove, etc.)
Body creams.

 

These creams are ideal both for tired legs and parts of the body with finer skin and prone to wrinkles, as well as for dry hands that need to balance the Ph, since they hydrate and nourish the skin. One of the most valued is the Crème Réparatrice, for areas of the body sensitive to aging, such as the neck, décolleté, breasts, the inner face of the arms and thighs, etc.
Preparation products.

 

Preparation products are understood to be those that are used before those whose function is to penetrate the skin to achieve the expected results. They are, as we have seen in the case of facials, toners and body milks, although they are also exfoliating and oxygenating, such as Gommage P50 Corps or Body Oxygénant.
Hair and sun products
Biologique recherche is also committed to hair and sun treatments with products focused on the needs of each person.
The Hair , like the face and body, is sensitive to external aggressions such as the abuse of shampoos, hair dyes or the heat of the dryer, which can end up damaging our scalp and accelerate hair loss. Biologique Recherche hair treatments include products such as shampoos, lotions, hair masks or creams and ideal balms for regular care of our hair, giving it volume, softness and shine while strengthening and moisturizing the scalp.
In the case of our skin , one of the external aggressions to which it is constantly subjected is UV rays. That is why Biologique Recherche offers a selection of sun creams that prevent the appearance of spots and dehydration of the skin (which cause premature aging), acting before, during and after the tanning process.
3 phases in a treatment Biologique Recherche
A Biologique Recherche treatment, both facial and body, account of three phases to achieve a perfect result in each case.
1. Evaluation phase
It's very important know and analyze the skin to be treated well in order to obtain the best treatment. For this reason, at Biologique Recherche they are emphatic in the role of the aesthetic medical specialist: it should be he or she who recommends and personalizes the ideal treatment for our skin after a facial diagnosis, that centers like Beauty Nail Concept offer for free. This is the most important phase to be able to identify the deficiencies and needs of each skin. Without it, some people can end up spending fortunes on quality products that are of no use to them because they do not provide their skin with the necessary care.
2. Initiation phase
This phase is used to see how our skin reacts to Biologique Recherche products, and it is normally carried out in a cabin in an aesthetic center. First of all, the skin is prepared, cleaned and purified, whether facial or body, to eliminate dead cells from our epidermis and prepare the rest for the application of products. At the same time, with this phase, a younger, more radiant and blemish-free appearance is achieved. Basic products such as cleansing milks, lotions, scrubs or masks in the case of the face and body oils in the case of the body.
3. Treatment phase
In this last phase, we proceed to the treatment that determines the initial facial diagnosis for the type of skin in question. The most appropriate products are chosen depending on the area to be treated, such as creams, sera or fluids that offer immediate results that last over time. Afterwards, the ideal is to continue the treatment at home with a routine of adequate beauty, prescribed by the beautician, with the recommended products.
The importance of maintenance
As we explained in this post beautiful skin is synonymous with healthy skin. We cannot expect our skin to look good if we do not tackle health problems derived from external factors such as climate, temperature, air conditioning, smoking and pollution, or internal factors such as stress, age, poor diet or little rest. That is why it is necessary to diagnose, treat and care for it on a regular basis using products that adapt to our needs, both at home and in our trusted beauty center. In Beauty Nails Concept We have experts in the skin care sector with more than 15 years of experience who will give you a free skin diagnosis so you know which treatment is best for you.
Facial or body diagnosis here .